Attention Students:  Canvas Learning Management System Begins Fall 2023
Athens State University has chosen Canvas as the new learning management system for all courses beginning in the Fall 2023 semester. Take a moment to learn more about why Canvas was chosen by Dr. Lee Vartanian, Interim Provost.
Log into myAthens Portal using your Athens State University email and PIN.
Locate the Get Connected tool, and click on Canvas.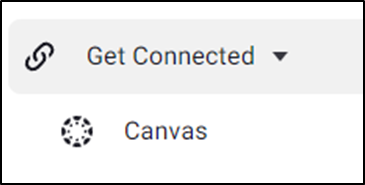 Note: Canvas will be available on August 1, 2023.
The university chose Canvas for the following reasons:
Highly customizable.
Simplified user experience.
Extremely mobile friendly for students and faculty.
Faculty, staff and students will lose access to Blackboard on July 31, 2023.
After July 31, 2023, users will no longer have access to Blackboard content. It is not possible to move student work within a course to Canvas. We encourage students to download materials they would like to keep for their reference in advance of July 31st.
Yes, the Canvas app for students is highly rated in Apple Store and on Google Play. Explore the student mobile guides for more information.
At Athens State University you can use your own laptop or other device to submit your coursework to the university Learning Management System (LMS) Canvas.
Screen Size
Canvas is best viewed at a minimum of 800×600, which is the average size of a notebook computer. If you want to view Canvas on a device with a smaller screen, we recommend using the Canvas mobile app.
Operating System
PC Running Windows 10 or 11 (version 22H2 or newer)
Mac running macOS 11 or newer
Screen resolutions of 800×600 and higher are required. Minimum 1280×720 recommended.
Supported browser – Chrome is recommended. Firefox and Safari are supported. Edge is not recommended.
Mobile Operating System
iPhone running iOS 12 or newer
iPad running iPadOS 12 or newer
Android Phone or Tablet running Android 9 or newer
On Mobile devices with screens smaller than 8", the official Canvas app is recommended as Canvas does not officially support browsers on smaller screen sizes.
Computer Speed and Processor
Use a computer 5 years old or newer when possible.
1GB of RAM
2GHz processor
Internet Speed
Screen Readers
Macintosh: VoiceOver (latest version for Safari/Chrome and iOS mobile)
PC: JAWS (latest version for Chrome/Firefox)
PC: NVDA (latest version for Chrome/Firefox)
Android mobile: Talkback
Software
Your instructors may elect to use a number of additional software services within your courses for online delivery. Please refer to the system requirements below for each of the services your instructors require you to access within your courses:
Access Athens
Honorlock
SoftChalk Cloud
YuJa
WebAssign®
Zoom
You have several ways to receive assistance with Canvas. You can visit Canvas Student Guides, contact your advisor or the Athens State Help Desk. Canvas also offers support via chat. You can find the link to Canvas Chat in the Assistance link at the bottom of your navigation menu in any of your Canvas courses.
To learn more about Canvas visit Canvas for Higher Education.